27Jun09:3017:15SQuaD Workshop on Quantum Communication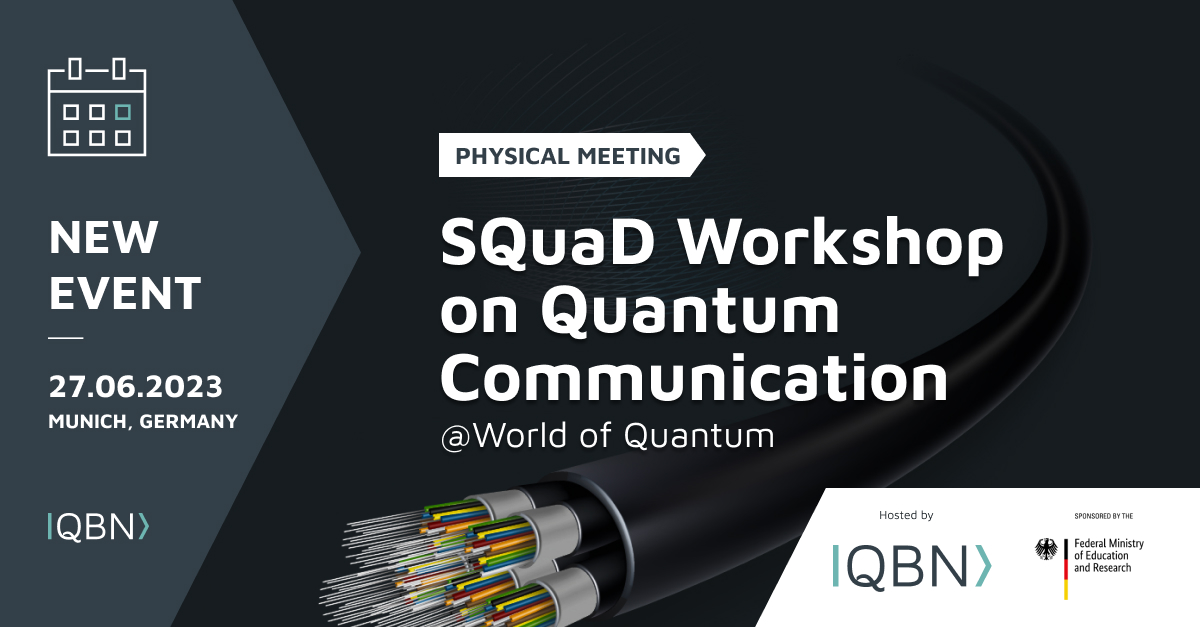 Time

27 Jun 2023, 9:30 - 27 Jun 2023, 17:15(GMT+02:00) View in my time
Location

World of Quantum

Am Messeturm, 81829 Munich
Speakers for this event
Alessandra Matteis

QTI

Gernot Berger

HTGF

Helmut Grießer

Helmut Grießer

Adva Network Security GmbH

Adva Network Security GmbH

Imran Khan

KEEQuant

Jesse Robbers

Jesse Robbers

Quantum Delta NL

Quantum Delta NL

Johanna Sepúlveda

Johanna Sepúlveda

Airbus Defence and Space - Intelligence

Airbus Defence and Space - Intelligence

Joshua Slater

Q*Bird

Linus Krieg

PTB

Lukas Weymann

Lukas Weymann

Fraunhofer ISI

Fraunhofer ISI

Oscar Diez

Oscar Diez

European Commission

European Commission

Simon Borger

Simon Borger

Sonneberg Harrison Partnerschaft mbH

Sonneberg Harrison Partnerschaft mbH

Thomas Schmaltz

Thomas Schmaltz

Fraunhofer ISI

Fraunhofer ISI

Ulrich Mans

Ulrich Mans

Quantum Delta NL

Quantum Delta NL

Wojciech Kozlowski

Wojciech Kozlowski

QuTech, Delft University of Technology

QuTech, Delft University of Technology
Event Details

As part of the BMBF umbrella project quantum communication Germany "SQuaD" we are pleased to invite you to an exciting workshop on Quantum Communication.

Aiming to shape the future of the Quantum Communication industry in Germany and the European Unition we'll discuss emerging trends, needs, and applications, with a specific focus on integration, supply chain, and critical factors such as politics and investments.

Our workshops provide an interactive and collaborative environment where experts from various backgrounds, including research, development, and application, as well as politics and investors come together to explore suitable formats and methods for knowledge exchange and the initiation of collaborations.

With the industry talks experts share firsthand insights, their experiences, successes, and challenges, providing valuable context and lessons learned.

Sign up and serve yourself one of the limited seats. Let's forge the path forward together!

You need a ticket for the World of Quantum? Contact us!
Agenda
Opening
Welcoming words from QBN | news
Johannes Verst and Haissam Hanafi, QBN
Opening
Introduction of the Umbrella Project for Quantum Communication in Germany (SQuaD)
Linus Krieg, PTB
Politics and Industry key Speakers
Status of EU initiatives and their impact
– Quantum Internet Alliance | Wojciech Kozlowski, QuTech
– Build the QCI Ecosystem | Jesse Robbers, Quantum Delta NL
Workshop
Knowledge exchange and networking opportunities
Expert tables on navigating the geopolitics of quantum
– Investment rules in crucial Qcom tech | Gernot Berger, HTGF
– Knowledge security & intellectual property | Simon Borger, Sonneberg Harrison Partnerschaft mbH
– Export control | Ulrich Mans, Quantum Delta NL
Workshop on value chain analysis and collaboration opportunities
Jointly build a value chain map, revealing hidden prospects for business growth and synergistic partnerships
Industry Pitches
Status of technology from industrial point of view
– Quantum secure networks | Johanna Sepúlveda, Airbus Defence and Space – Intelligence
– QKD for the optical transport network | Helmut Grießer, Adva Network Security GmbH
– Continuous-Variable Quantum Key Distribution for the High Security Market | Imran Khan, KEEQuant
– Quantum Key Distribution: an industrial perspective and real world use cases | Alessandra Matteis, QTI
– Quantum Key Distribution for Industry, and as a stepping stone to Quantum Services | Joshua Slater, Q*Bird
Panel discussion
Delivering first generation applications
– Engaging public authorities as first-users
– Comparing use cases in verticals: banking, logistics, energy
– how to build trust among potential partners / clients
Panelists – Johanna Sepúlveda | Imran Khan | Alessandra Matteis | Oscar Diez
Moderator – Jesse Robbers
Guide to Roadmap
Innovation aspects of Quantum Communication
Thomas Schmaltz and Lukas Weymann, Fraunhofer ISI