26Oct09:3017:00QBN Meeting on Quantum Sensing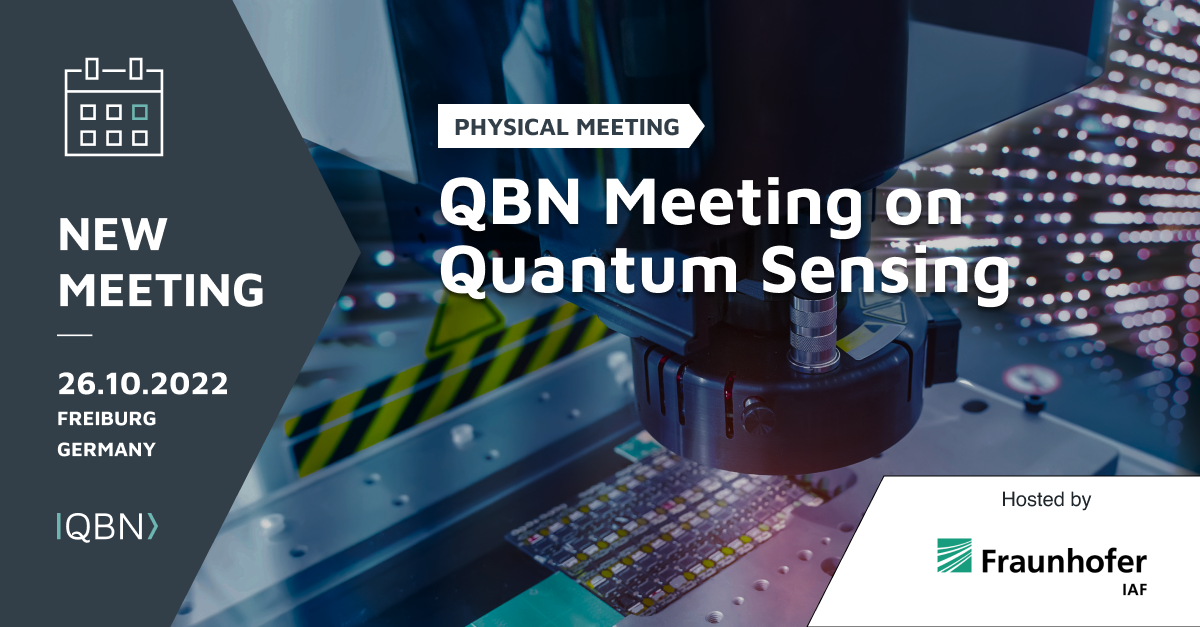 Time

26 Oct 2022, 9:30 - 26 Oct 2022, 17:00(GMT+01:00) View in my time
Location

Fraunhofer IAF

Tullastraße 72, 79108 Freiburg im Breisgau
Speakers for this event
Anatoly Konukhov

Anatoly Konukhov

Director of Business Development

Director of Business Development

Florian Otto

Florian Otto

Head of Business Sector Cryogenic Instruments

Head of Business Sector Cryogenic Instruments

Gabriel Puebla Hellmann

Gabriel Puebla Hellmann

CEO

CEO

Gabriele Bulgarini

Gabriele Bulgarini

Program Manager Quantum Technology

Program Manager Quantum Technology

Ilai Schwarz

CEO

Johannes Lang

Johannes Lang

Co-Founder & Managing Director

Co-Founder & Managing Director

Matthew Markham

Matthew Markham

Element Six

Principal Research Scientist

Element Six

Peter Knittel

Peter Knittel

Fraunhofer IAF

Fraunhofer IAF

Robin D. Allert

Robin D. Allert

Co-founder

Co-founder

Simon Philipp

Simon Philipp

Post-Doc in group Meso- und Mikromechanik

Post-Doc in group Meso- und Mikromechanik

Tadashi Sakai

Tadashi Sakai

Specially Appointed Professor

Tokio Institute of Technology

Specially Appointed Professor

Xavier Vidal

Xavier Vidal

Research Scientist

Research Scientist
Event Details

Sensors are the interface between the real and the digital world and quantum effects enable the development of systems that go beyond the limits of classical metrology and achieve unique imaging performance. Join this working group meeting as we will discuss industry applications based on diamond quantum sensors and related trends and challenges in R&D and business with experts and pioneers from the whole supply chain, from suppliers to intergators to end-users. Gain deep market and company insights and benefit from valuable networking and business opportunities in a trust-based environment.
Key notes & technical talks
Industry & startup pitches
Networking & lab visits
Dinner
Sign up now and secure yourself one of the very limited seats.
Here you can find some hotel recommendations.
Agenda
Opening
Welcoming words
Johannes Verst, QBN
Fraunhofer IAF overview
Peter Knittel, Fraunhofer IAF
Quantumania – New sensing approaches based on quantum effects
Peter Knittel, Fraunhofer IAF
Diamond Materials for Quantum Sensing
Matthew Markham, Element Six
Diamond NV Quantum Sensor Research in MEXT Q-LEAP
Tadashi Sakai, Tokio Institute of Technology
Magnetic imaging by widefield microscopy
Xavier Vidal, Fraunhofer IAF
Quantum sensing with diamond : National testbed and European testbed network Qu-Test
Gabriele Bulgarini, TNO
NMR on the nanoscale – Tailored NV diamond for quantum sensing
Johannes Lang, Diatope
Near-surface NV centers in diamond for quantum applications
Robin D. Allert, Quantum Diamonds
Industry & Start-up pitches
Enabling technology for quantum sensing at cryogenic temperatures
Florian Otto, attocube
Visualizing metabolism at the microscale using NV centers and quantum metabolic probes
Ilai Schwarz, Nvision
Making scanning NV magnetometry as easy as AFM
Gabriel Puebla Hellmann, QZabre
Materials Characterization using Optically Pumped Magnetometers
Simon Philipp, Fraunhofer IWM
Using quantum sensing for ultrasensitive biomarker detection. Overview and Updates.
Anatoly Konukhov, QDTI