14Jun(Jun 14)10:0015(Jun 15)17:00QBN Meeting on Quantum Computing & Applications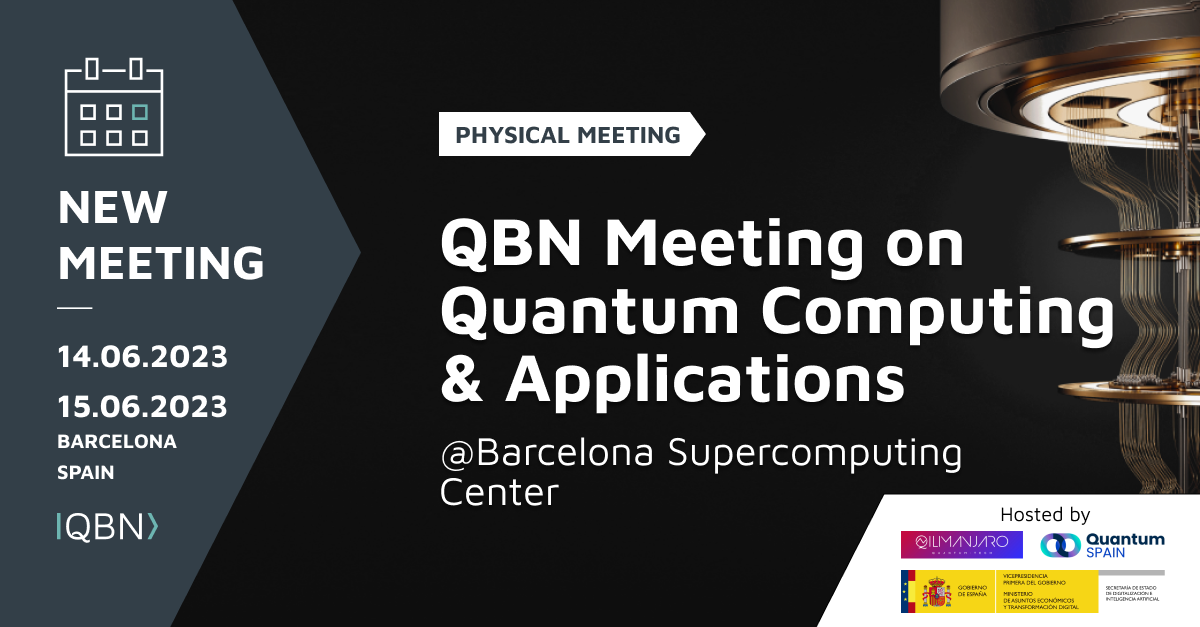 Time

14 Jun 2023, 10:00 - 15 Jun 2023, 17:00(GMT+01:00) View in my time
Location

Barcelona Supercomputing Center

Plaça Eusebi Güell, 1-3 08034 Barcelona (Spain)
Speakers for this event
Alba Cervera Lierta

Alba Cervera Lierta

Barcelona Supercomputing Center

Senior Researcher and Coordinator of Quantum Spain project

Barcelona Supercomputing Center

Antón Makarov

GMV

Anurag Saha Roy

Qruise

Benjamin Lilienthal-Uhlig

Benjamin Lilienthal-Uhlig

Fraunhofer IPMS

Head of Business Unit, Next Generation Computing

Fraunhofer IPMS

Colin Kai-Uwe Becker

Colin Kai-Uwe Becker

Fraunhofer FOKUS

Fraunhofer FOKUS

Georg Gesek

QMware

George Gesek

QMware

Hiro Nakata

Hiro Nakata

Jij Inc.

Board Director & Head of Business

Jij Inc.

Jorge Luis Hita

Jorge Luis Hita

BBVA

Quantum Research Scientist

BBVA

José María Cela

José María Cela

Barcelona Supercomputing Center

Director of the CASE department (Computer Applications in Science and Engineering)

Barcelona Supercomputing Center

Koen Bertels

QBee

Marta Estarellas

Marta Estarellas

Qilimanjaro Quantum Tech

Qilimanjaro Quantum Tech

Marten Arthers

QuantWare

Michael Marthaler

Michael Marthaler

HQS Quantum Simulations GmbH

HQS Quantum Simulations GmbH

Peter Eder

IQM

Ricardo Enríquez Miranda

Ricardo Enríquez Miranda

Repsol

Head of Quantum Advisory Team

Repsol

Rosa M Badia

Rosa M Badia

Barcelona Supercomputing Center

Barcelona Supercomputing Center

Victor Canivell

Victor Canivell

Qilimanjaro Quantum Tech

Qilimanjaro Quantum Tech

Vishal Chatrath

Vishal Chatrath

QuantrolOx

QuantrolOx

Walter Hahn

Walter Hahn

Fraunhofer IAF

Senior Research Scientist

Fraunhofer IAF
Event Details

The working group meeting is hosted by Qilimanjaro and Quantum Spain on 14th and 15th June 2023 in Barcelona, Spain. The first day of the event will focus on Superconducting Qubit Technology and HPC Integration and the second day is devoted to User Access, Benchmarking & Use Cases in Energy & Finance. The event will include a variety of presentations, pitches, networking opportunities, and a visit of Spains most powerful supercomputer. Attendees will have the chance to meet and connect with like-minded individuals and organizations, and explore potential partnerships and collaborations.
Agenda Day 1
Opening
Welcoming words and intro QBN
Johannes Verst, QBN
The Quantum Ecosystem in Spain
Victor Canivell, Qilimanjaro
Barcelona Supercomputing Center(BSC) introduction
José María Cela, BSC
Tech & Biz talks
Pushing the limits of today's superconducting quantum computing
Benjamin Lilienthal-Uhlig, Fraunhofer IPMS
Workshop
WG Quantum Computing & Applications
Quantum-ASIC and the road to bring quantum advantage now
Marta P Estarellas, Qilimanjaro
Accelerate scaling of quantum computers through automation
Vishal Chatrath, QuantrolOx
Tech & Biz talks
Hybrid workflows Quantum-HPC
Rosa M Badia, BSC
Quantum Chemistry Simulations on HPC systems for Noisy Quantum Devices
Walter Hahn, Fraunhofer IAF
Automated Calibration and Characterisation of Quantum Devices
Anurag Saha Roy, Qruise
Co-Design Quantum Computing
Peter Eder, IQM
Open Architecture quantum computers from research to HPC integration
Marten Arthers, QuantWare
Agenda Day 2
Opening
Welcoming words and intro QBN
Johannes Verst, QBN
Quantum Spain in the NISQ era
Alba Cervera Lierta, BSC
Tech & Biz talks
Quantum Computing and a sustainable energy sector
Ricardo Enríquez Miranda, Repsol
Performance Assessment of Gate-Based QPUs with Applications in Quantum Software Engineering
Colin Kai-Uwe Becker, Fraunhofer FOKUS
Benchmarking Techniques of Hybrid Quantum Computers
George Gesek, QMware
Workshop
WG Quantum Computing & Applications
Lunch break
Visit of Marenostrum – Spain's most powerful supercomputer & Networking
Tech & Biz talks
Quantum Journey at BBVA
Jorge Luis Hita, BBVA
Quantum Simulation at HPC use cases
Michael Marthaler, HQS Quantum Simulations GmbH
Quantum hybrid solver for optimization
Hiro Nakata, Jij Inc.
PISQ and NISQ – The next step towards industry-based quantum computing applications
Koen Bertels, QBee
Optimization of Image Acquisition for Earth Observation Satellites via Quantum Computing
Antón Makarov, GMV