24Nov09:3017:00QBN Meeting on Quantum Computing - Accelerators for HPC centers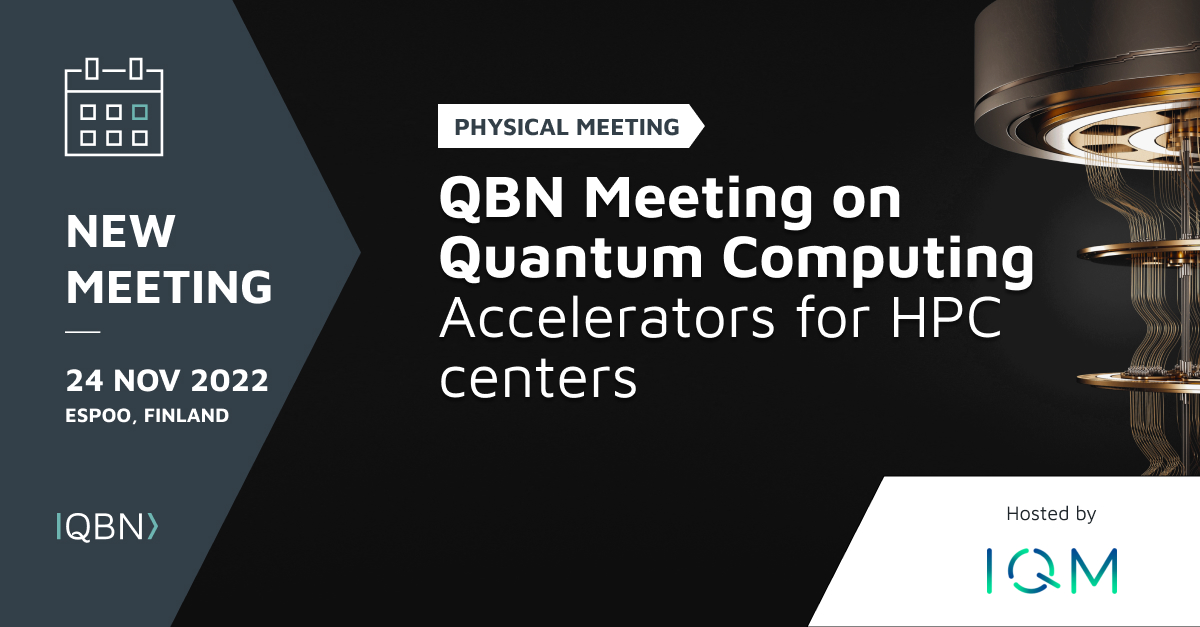 Time

24 Nov 2022, 9:30 - 24 Nov 2022, 17:00(GMT+00:00) View in my time
Location

IQM

Keilaranta 19, 02150 Espoo, Finland
Speakers for this event
Carsten Blank

Carsten Blank

Managing Director

Managing Director

David Rivas

David Rivas

SVP Quantum Cloud Services

SVP Quantum Cloud Services

Jean Senellart

Quandela

Kelvin Loh

Kelvin Loh

Software Development Lead

Software Development Lead

Kuan Yen Tan

Kuan Yen Tan

CTO & Co-founder

CTO & Co-founder

Laura Schulz

Laura Schulz

(Acting) Department Head, Quantum Computing and Technologies / Head of Strategic Development and Partnerships

(Acting) Department Head, Quantum Computing and Technologies / Head of Strategic Development and Partnerships

Niels Bultink

Niels Bultink

CEO and Co-Founder

CEO and Co-Founder

Oscar Diez

Oscar Diez

European Commission

European Commission

Peter Eder

IQM

Robert Stockill

CTO
Event Details

The meeting focuses on bringing together two of the most powerful computing technologies available today – HPC and quantum computing. While quantum computing is a promising, but still developing field, maximal benefit and most useful applications can be achieved by integrating it in capable HPC centers as a support machinery. Quantum experts from academia and industry will delve into questions:
What are the current state and challenges of HPC integration?
What are the technology requirements and compatibility?
How to collaborate and accelerate the integration?
Together we will explore techniques of implementing Quantum Computers in HPC centers, visit IQM's lab and connect with collaboration and business partners. For attending the lab visit signing a visitor NDA is required. Also check out the QBN Meeting on Looking Beyond User Access and Simulators the next day in Espoo, Finland. Join the informal evening dinner on 24 November. Dinner is on us sponsored by IQM. Stay tuned for the speaker announcements.
Here you can find some hotel recommendations.
Agenda
Opening
Welcoming words
Johannes Verst, QBN
IQM overview
Kuan Yen Tan, IQM
EC Quantum Computing Initiatives
Oscar Diez, European Commission
Quantum: Preparing for the next wave of supercomputing
Laura Schulz, LRZ
Bringing quantum acceleration to HPC Centers
Peter Eder, IQM
Bridging the gap between high-performance classical and quantum computing
Niels Bultink, Qblox
Quantum Chip Diagnostics within HPC environments
Kelvin Loh, Orange Quantum Systems
QphoX: Optical Interfaces for Scalable Quantum Computing
Robert Stockill, QphoX
Quandela takes on Computing with Photons and HPC
Jean Senellart, Quandela