01Dec09:3017:00QBN Meeting on Quantum Communication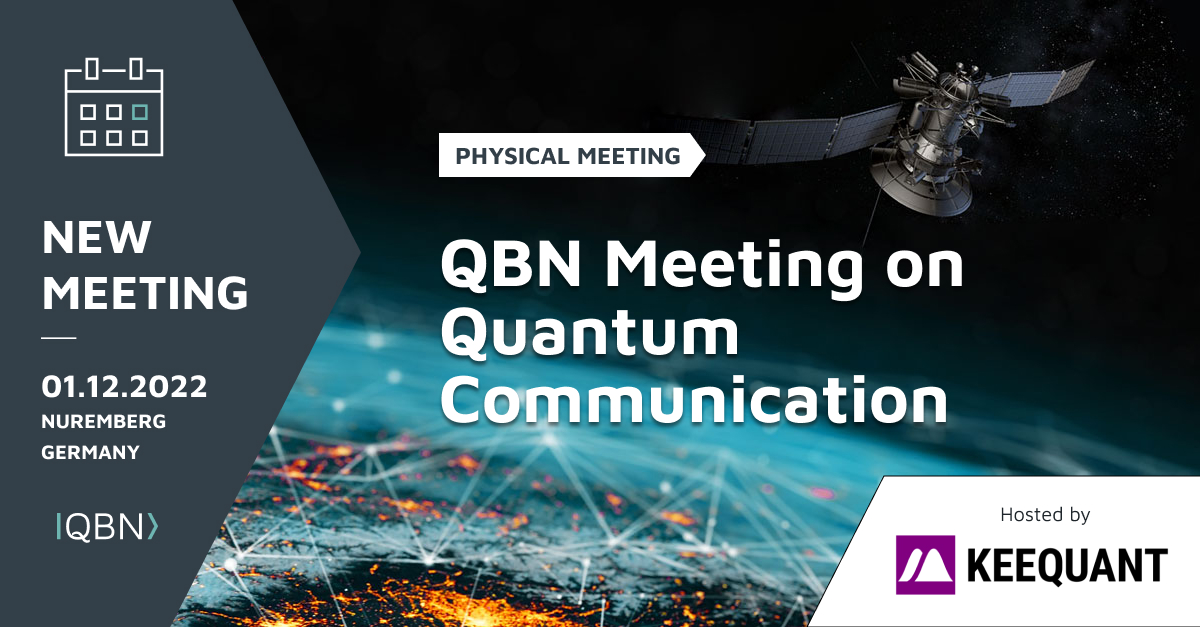 Time

1 Dec 2022, 9:30 - 1 Dec 2022, 17:00(GMT+00:00) View in my time
Location

KEEQuant

Kulturwerkstatt Auf AEG, Fürther Str. 244d, 90429
Speakers for this event
Alberto Comin

Alberto Comin

Research Project Leader for Quantum Communications

Research Project Leader for Quantum Communications

Alessia Scriminich

Alessia Scriminich

Systems Engineer

Systems Engineer

Andy Heinig

Andy Heinig

Head of department Efficient Electronics

Fraunhofer IIS/EAS Dresden

Head of department Efficient Electronics

Christoph Marquardt

Christoph Marquardt

Chair of Optical Quantum Technologies

Chair of Optical Quantum Technologies

David Dupuy

David Dupuy

Sales Manager for East Europe

Sales Manager for East Europe

Hedwig Körfgen

Hedwig Körfgen

Researcher MuQuaNet

Bundeswehr University Munich

Researcher MuQuaNet

Josef Vojtech

Josef Vojtech

Head of research department of Optical networks

Head of research department of Optical networks

Marc Kaplan

CEO

Marcus Gärtner

Marcus Gärtner

System-Engineer, Project Manager "DemoQuanDT"

Deutsche Telekom Technik GmbH

System-Engineer, Project Manager "DemoQuanDT"

Mario Castaneda

Mario Castaneda

Research Manager

Research Manager

Tommaso Occhipinti

QTI

Ulrich Eismann

Ulrich Eismann

Co-Founder, Business Lead

Co-Founder, Business Lead
Event Details

Due to an increasing cyber threat in the private and public sector and thus high governmental interest, the quantum communication industry is one of the fastest growing quantum industries. This is clearly demonstrated by the European commitment based on the development of a secure quantum communication infrastructure that will span the whole EU and the first European satellite with a German QKD system on board. This exclusive, in-person meeting will gather the key players covering the whole supply chain from single-photon sources and detectors to system integrators and end-users. We will discuss latest trends and challenges in R&D and business in quantum communications, QKD systems and its commercial applications. Moreover we'll connect you with potential collaboration and business partners and visit KEEQuant's lab.
Key notes & technical talks
Industry & startup pitches
Networking & lab visit
Informal Dinner on 30 Nov
Sign up now and secure yourself one of the very limited seats.
Agenda
Opening
Welcoming words
Johannes Verst, QBN
KEEQuant and challenges of QKD
Ulrich Eismann, KEEQuant
tba
Christoph Marquardt, MPL / FAU
Synergy of QKD and optical time and frequency dissemination in (research) networks
Josef Vojtech, CESNET
QKD@DT: Application-oriented Demonstration of Quantum communication in DeuTschland
Marcus Gärtner, Deutsche Telekom Technik GmbH
Advances in Superconducting Nanowire Single Photon Detection systems for Quantum communications
Mario Castaneda, Single Quantum
Designing Applications for quantum networks
Marc Kaplan, VeriQloud
Designing MuQuaNet – Architecture considerations for the Munich Quantum Network
Hedwig Körfgen, Bundeswehr University Munich
Industry & Start-up Pitches
Miniaturised high-speed ADC/DAC toolbox for quantum communication
Andy Heinig, Fraunhofer IIS/EAS Dresden
Space-Based Quantum Communication at OHB
Alessia Scriminich, OHB Systems
Quantum Communication at Airbus
Alberto Comin, Airbus
Quantum Key Distribution for Real-World Telecommunications Networks
Tommaso Occhipinti, QTI
tba
David Dupuy, iXblue