28JanAll Day02FebQBN Joint Booth @ SPIE Photonics West 2023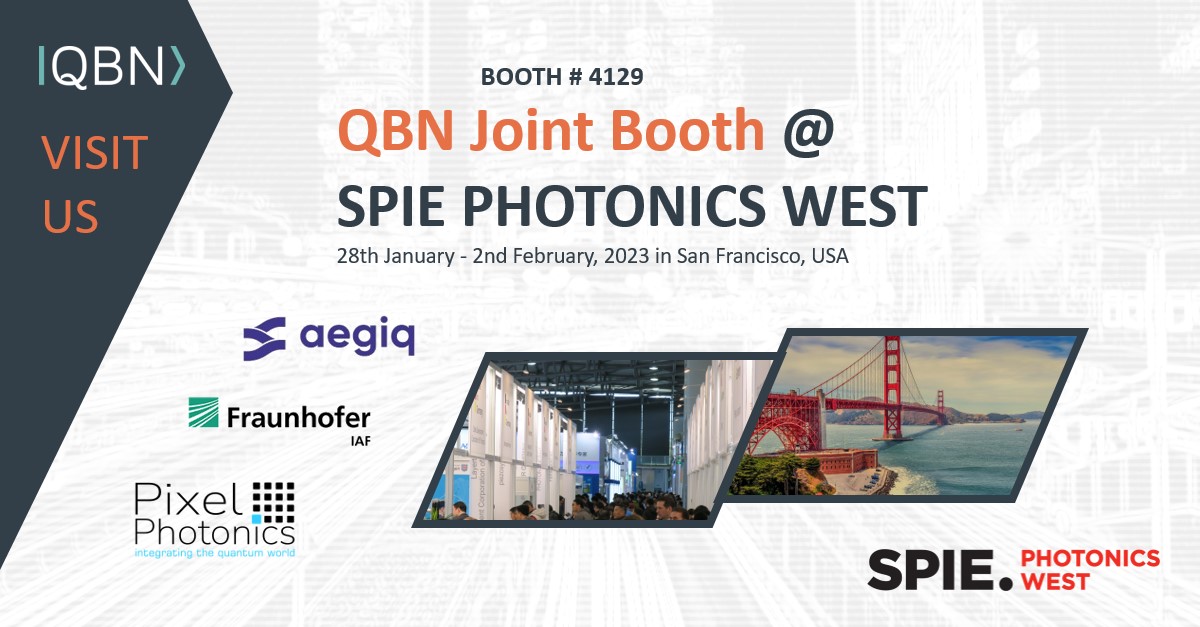 Time

28 Jan 2023, 9:00 - 2 Feb 2023, 17:00(GMT+01:00) View in my time
Event Details

SPIE Photonics West is one of the biggest event in the field of photonics and encompasses a diverse range of topics, including bio-photonics, quantum technology, and more and their proper conferences like the Quantum West.
QBN Joint Booth – Along with our co-exhibitors, key player in the quantum industry, Aegiq, Fraunhofer IAF, and Pixel Photonics we are excited to welcome you at the QBN Joint Booth at the SPIE Photonics West in San Francisco!
Meet the QBN Joint Booth co-exhibitors:

Aegiq
Aegiq designs and develops high-performance quantum technologies and quantum photonics hardware to accelerate the global push towards quantum uptake. Their pioneering single-photon sources, available at the exhibition, and hybrid photonics platforms address the demand for fiber and satellite quantum communications and enable research and applications in quantum computing, sensing, and metrology.
Member profile

Fraunhofer IAF
The Fraunhofer Institute for Applied Solid State Physics IAF is one of the world's leading research institutions in the fields of III-V semiconductors and synthetic diamond. Based on these materials, Fraunhofer IAF develops novel components e.g., for quantum computing and quantum sensors for industrial applications. With its R&D, the research institute covers the entire value chain—from materials research, design and processing to modules, systems and demonstrators as well as simulation.
Member profile

Pixel Photonics
Pixel Photonics, based in Münster, Germany, has developed a unique approach for integrating SNSPDs on a chip waveguide. We are combining the superior features of SNSPDs with the versatility of an integrated photonic platform to deliver highly parallelized, efficient and ultra-fast single-photon detection.
Member profile

QBN – Quantum Business Network
QBN is the world's leading business network that promotes networking, business creation and the development of organizations working in the field of quantum technologies and its value chains. We bring together people from industry, science and politics and connect you with the entire value chain to build a strong Quantum Industry.
More details

Contact us to schedule a meeting. See you in San Francisco!