07MarAll Day09QBN Joint Booth @ APS March Meeting 2023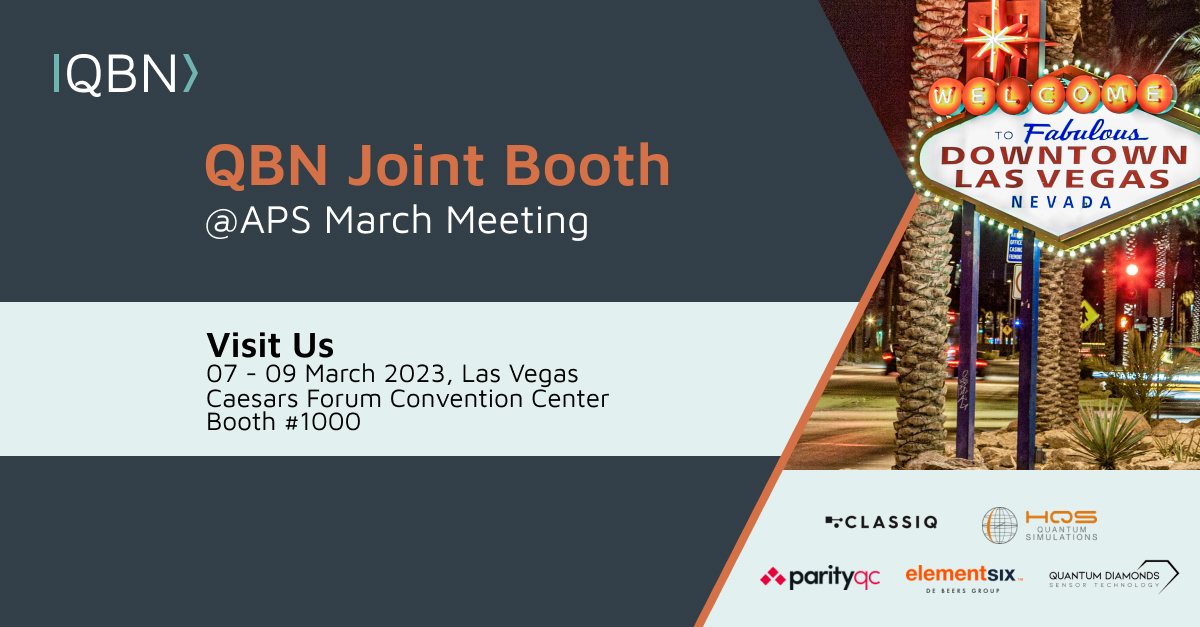 Time

7 Mar 2023, 14:00 - 9 Mar 2023, 14:00(GMT+01:00) View in my time
Event Details

QBN is going to be attending the APS March Meeting along with our co-exhibitors. The March Meeting 2023 will provide attendees with the chance to present their research and products, interact with their peers, and stay informed about current issues affecting the physics community.
The American Physical Society's March Meeting is a renowned event that brings together a diverse group of scientists and students from all over the world to collaborate and connect across academia, industry, and major labs. Attendees of this event, including students, early-career physicists, and experienced professionals, will have the opportunity to enhance their knowledge and network with others in the physics community.

Meet the QBN Joint Booth co-exhibitors:

Classiq
Classiq offers a Quantum Algorithm Design platform to solve real-world problems with quantum circuits. It transforms high-level functional models into optimized quantum circuits for a range of systems, reducing time from months to minutes. Classiq's platform serves industries such as finance, chemistry, logistics, machine learning and more.
Member profile

Quantum Diamonds
Quantum Diamonds in Munich specializes in nitrogen-doped diamond material production. They offer ready-to-use diamond material, and services such as characterization and annealing, and consulting for the design and integration of diamond-based sensing devices. Their expertise is in Quantum Enabling Technologies and Quantum Sensing, and we serve industries such as Aerospace, Energy, Pharma, and more.
Member profile

ParityQC
ParityQC is a quantum architecture company that provides blueprints, instruction sets, and software suite for quantum computers to solve optimization problems in various industries. Its solution is fully programmable, parallelizable, and scalable. ParityQC's applications include noisy intermediate-scale quantum computing and optimization problems in various industries.
Member profile

Element Six
Element Six is a leading producer of synthetic diamond and tungsten carbide solutions for a range of applications, including quantum-enabled sensing and ultra-precision machining. The company's engineered diamond research has made contributions to the fields of consumer, defense, and medical markets.
Member profile

HQS Quantum Simulations
HQS Quantum Simulation is a Karlsruhe-based start-up that develops quantum-enhanced software for simulating molecules, reactions, and material properties. Its solutions offer high-precision simulation, with increased speed and integration into existing development processes. They serve industries such as energy, materials science, and pharma.
Member profile

Contact us to schedule a meeting. See you in Las Vegas!