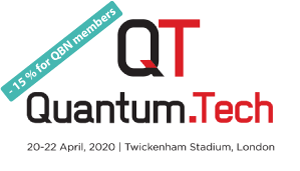 Proudly announce the new media partnership with Quantum.Tech. The global business conference & exhibition for commercial applications of Quantum technology takes place on 21 – 22 April 2020 in London.
? We provide our members 15 % DISCOUNT on the tickets. ? You want to join the conference and exhibition? Just let us know and we will send you the booking link.
? If you are interested in LEARNING MORE ABOUT the Quantum Business Network, please feel free to contact us to meet at Quantum.Tech.
? Don't want to buy a ticket? WIN A TICKET! Stay tuned, follow us on LinkedIn and don't miss our raffle. ?
To find more information about the event click here.