09Nov15:0018:00QBN Webinar: Quantum Computing for Material Science & Pharma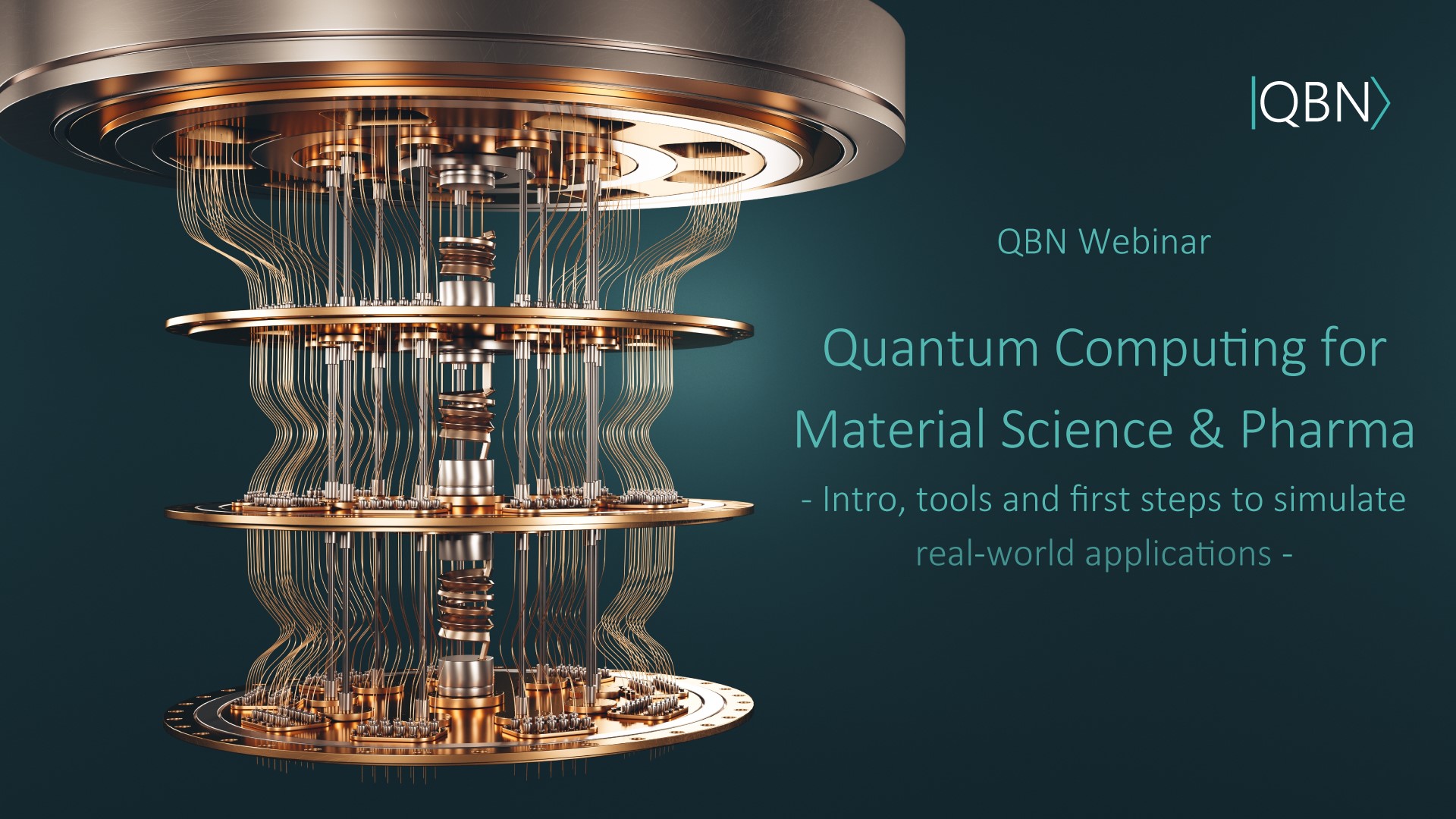 Time

9 Nov 2020, 15:00 - 9 Nov 2020, 18:00(GMT+01:00) View in my time
Event Details

QBN Webinar
Quantum Computing for Material Science & Pharma
– Intro, tools and first steps to simulate real-world applications –
Get deep insights into current state-of-the-art quantum simulation tools and discover the huge potential of quantum computing for material science and the pharma industry. Within the demonstration of the platform QADC and Hyrax you will learn, which tool is the right one for you and how to use it. In addition, each participant will be granted 100 credits per month to try the QADC platform and a personal contact person for both platforms to discuss your quantum simulation benefit.
Join our free webinar and take the lead!
Workshop Aim
After the webinar you will have enough knowledge to decide, if and where quantum simulations provide you support,
an overview of leading platform tools to tackle your challenges,
seen a demo and first steps, how to use these tools and
100 credits to try the platform QADC by yourself.
Target audience
Representatives from industry, science and academia
Representatives from Material Science and Pharma
Researcher, Business and Innovation Developer
interested parties
Speakers
Prof. Dr. Frank Wilhelm-Mauch
Director of the Peter Grünberg Institute 12, Quantum Computing Analytics & Coordinator of EU Quantum Flagship project "OpenSuperQ"
Dr. Michael Marthaler
CEO & Co-founder
HQS Quantum Simulations GmbH
Leonard Wossnig
CEO & Co-founder
Rahko Ltd.
Workshop Agenda
3:00 pm
Welcoming words and introduction of QBN
Johannes Verst
3:10 pm
Current quantum computers and their role for quantum simulation

Prof. Dr. Frank Wilhelm-Mauch
(5 min Q&A)
3:35 pm
Presentation of Europe's best Quantum Simulation Start-ups
– HQS Quantum Simulations GmbH
Dr. Michael Marthaler
– Rahko Ltd.
Leonard Wossnig
3:55 pm
Application workshop – Tools, examples and first steps
– QAD, the Quantum Assisted Design Cloud is a development environment designed to enable the simulation of molecules and materials on quantum computers. Via its web interface it allows the user to set up calculations for one- and two-dimensional lattice models of strongly correlated electrons and spin systems. Furthermore, it provides an API which allows to directly access QAD components via Python. We provide an overview over QAD's features in the current beta version.
(10 min Q&A)
– Hyrax: A quantum machine learning discovery framework
Hyrax is a drug and materials discovery platform which is powered by Rahko's state-of-the-art quantum machine learning algorithms. Currently Hyrax can be used for the fast prediction of chemical properties in a process called virtual high-throughput screening. Hyrax additionally contains a framework which allows developers to easily create and deploy quantum algorithms on near term quantum devices.
(10 min Q&A)
5:15 pm end
Moderation
Johannes Verst, CEO & Founder @ Quantum Business Network
Venue: Zoom Webinar & YouTube live stream
Language: English
Costs: free, registration required
Contact: info@quantumbusinessnetwork.de