On Feb 10, 2021 the second European Quantum Leadership (EQL) session took place online to show the world, how Europe paves its way to a technological and industrial quantum leadership – watch it on demand and save the date for the next session.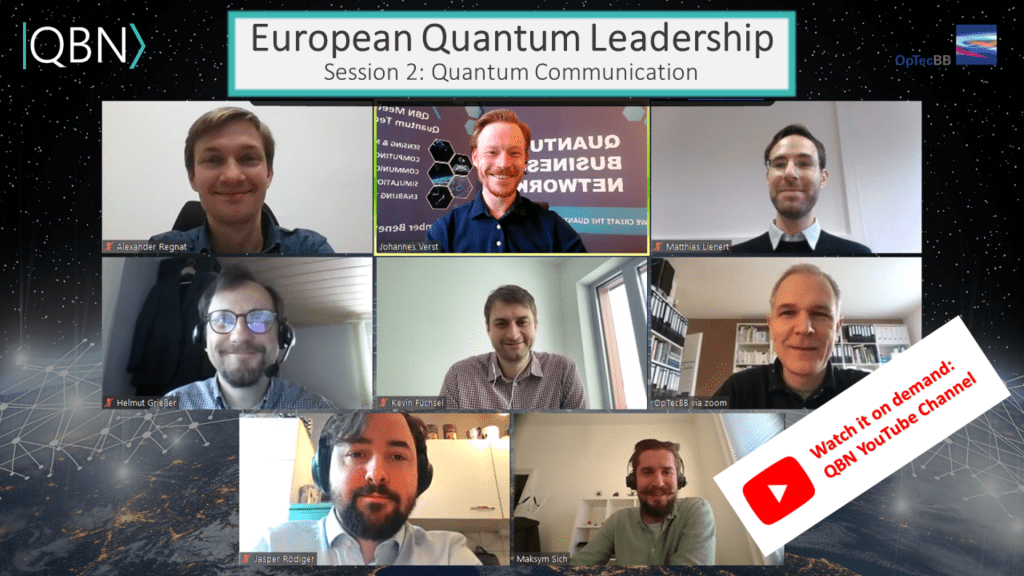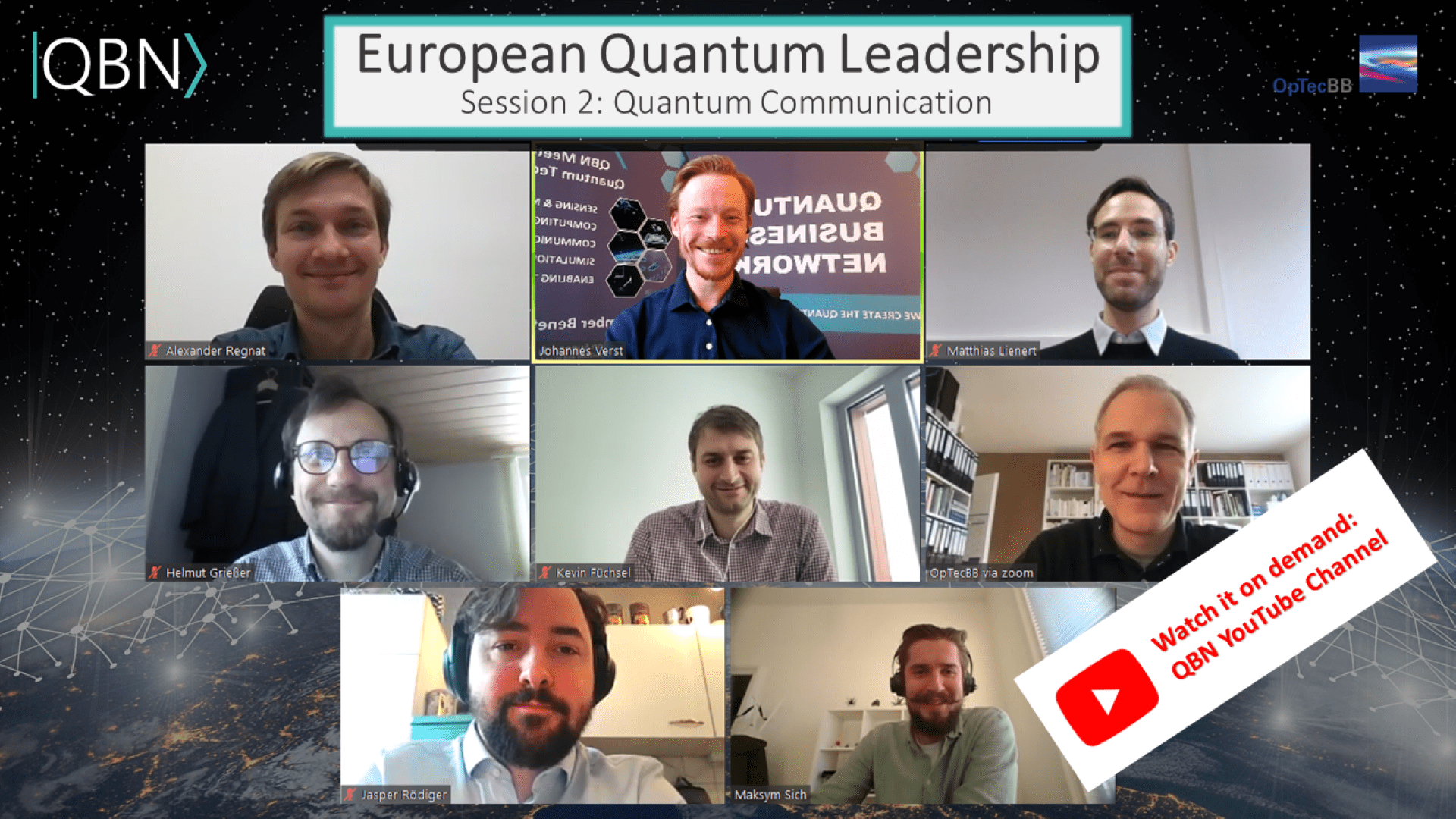 Besides the holistic portfolio of activities and support services, the Quantum Business Network has also three event formats:
The QBN Meetings with experts from the whole ecosystem are exclusive, non-public meetings on different fields of quantum technologies focusing on business collaborations, knowledge exchange and personal networking in a trust-based environment.
In the QBN Webinars leading organizations provide deep insights with extended presentations and live demos into the current state of quantum technologies and their applications.
In the European Quantum Leadership sessions, you can learn about the flourishing European quantum industry with its leading startups, corporates and RTOs from the different fields of quantum technologies and its value chains and gain insights into their visions, products, success stories and collaborations as key to position themselves and Europe as a leader.
European Quantum Leadership – Session 2: Quantum Communication
Quantum communication uses the laws of quantum physics to protect data. A development of a secure Quantum Communication Infrastructure (QCI) is essential to protect our economy and society from cyber threats. Several european countries are already developing their own QCI and even more are joining the efforts. However, there is still a lot of place for improvement. The brilliant speakers of the second session shared their knowledge and business services to promote the growth of quantum industry in Europe.
The session started with a short introduction of the organizers Johannes Verst, CEO of QBN and Frank Lerch, Managing Director of OptecBB followed by six exciting presentations.
First presentation "The evolution and future of quantum optical communications" was given by Maksym Sich, CEO of AegiQ, member of QBN, and it explored possibilities that quantum optical technologies could offer in the future.
In the next presentation "Towards a German Quantum Communication Infrastructure" Dr Jasper Rödiger from Fraunhofer HHI offered us a closer look at local joint initiative.
Afterwards, Dr Alexander Regnat, CEO and Co-founder of kiutra, which is also a member of QBN, shared the benefits and applications of "Magnetic Refrigerators for Quantum Detectors and Quantum Communication".
Next Dr Kevin Füchsel from Quantum Optics Jena explained the main physical principles of "High Performance Entangled Photon Sources for Quantum Communication" and its major role in cyber security.
Dr Matthias Lienert, research assistant at Research Institute CODE (Bundeswehr University Munich) proposed possible solutions to establish a quantum-secured communication with his presenatation "MuQuaNet – The quantum internet in the Munich area".
The session was ended by Dr Helmut Grießer from ADVA Optical Networking with a presentation "Quantum security for optical networks".
EQL Session 2 on demand
A big thank you to the fantastic speakers!
We are looking very much forward to see you in the next EQL Session 3: Quantum Sensing and Imaging on April 14, 2021 – save the date!