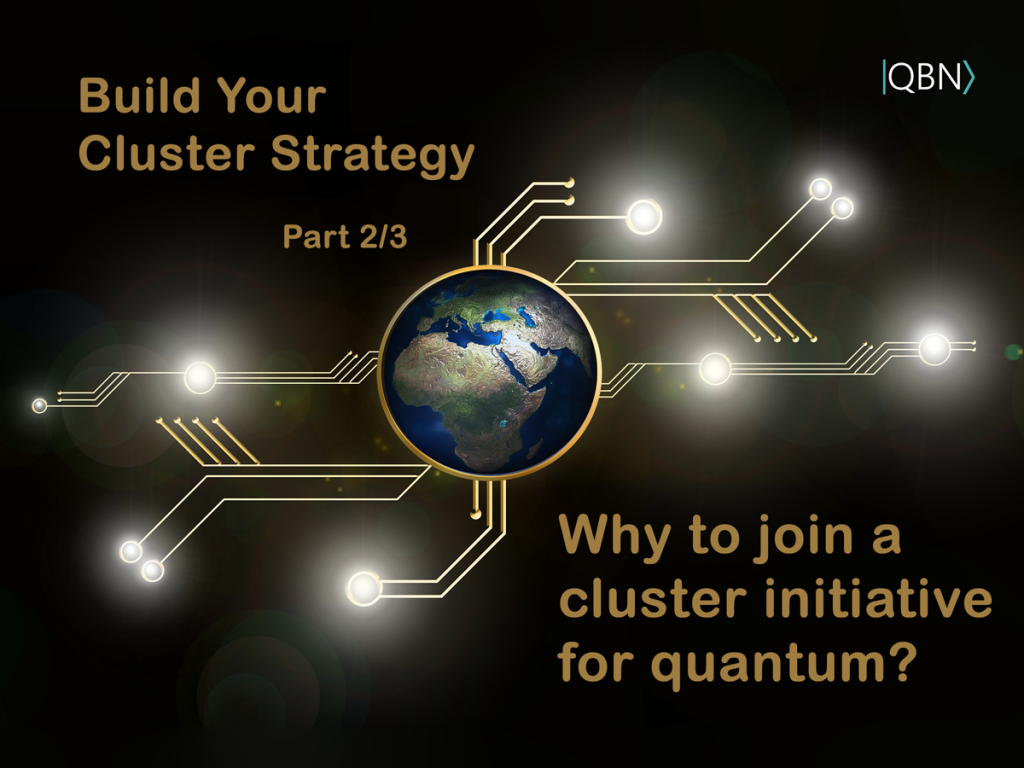 Quantum Technologies are different
The research-intensive quantum technologies are increasingly dedicated to the realization of practical products and services for commercial relevant tasks and applications. Within this industry building process especially quantum startups are challenged by the necessary cultural change. Many teams and managers come from academic research and have an enviable expertise, but less experience and knowledge in management. Furthermore they have a deep do-it-yourself mentality. But nobody can create the future of quantum technologies alone, whether in the computing, communication, sensing or simulation domain. As quantum technologies are the deepest of deeptech, the integration of vertical and horizontal cooperations as well as outsourcing to experts in the development strategy should be accelerated. This results in the rising need of an active and static contribution of all ecosystem actors in cluster initiatives and the development of a clear cluster strategy more than for any other highly interdisciplinary key enabling technology.
Read before: Build Your Cluster Strategy (1/3): The Power of Innovation Clusters
Active cluster actors, especially SMEs and startups benefit and grow disproportionately compared to the overall economy
Actors, especially companies with an active and static contribution in powerful innovation clusters grow more dynamically, are more innovative and therefore have a much better market position. This is verified by empirical research according to the "Trendatlas: Entwicklungsdynamiken von Clusterinitiativen in Deutschland im Zeitverlauf" of the Institute for Innovation and Technology (iit) in VDI/VDE Innovation + Technik GmbH.
Clusters provide growth of economics and innovation
The companies and RTOs as well as technology, innovation and founder parks, which are involved in cluster initiatives are main actors of the innovation landscape and therefore are essentially contributing in generating innovation and added value. This basic assumption is a common consensus on regional, national and European level and the reason for the involvement of clusters in their smart specialisation strategy (their model for economic growth).
QBN follows cluster transformation trend
As a jung network QBN aims the implementation of old proven and new concepts. Regular expert meetings as well as marketing support and PR have always had a great supporting effect for the cluster actors and the technology as such.
New is the much more agile form of organisation, which allows, compared to other associations, individual support of single cluster actors. Beside the mentioned classical instruments for innovation and cooperation support, QBN puts its efforts in business development and founding support as additional services. We see ourselves just as company, innovation and ecosystem builder with the mission of supporting our members, the network and the quantum technologies on a global scale.
Read also: