10Feb09:0012:00European Quantum Leadership – Session 2: Quantum Communication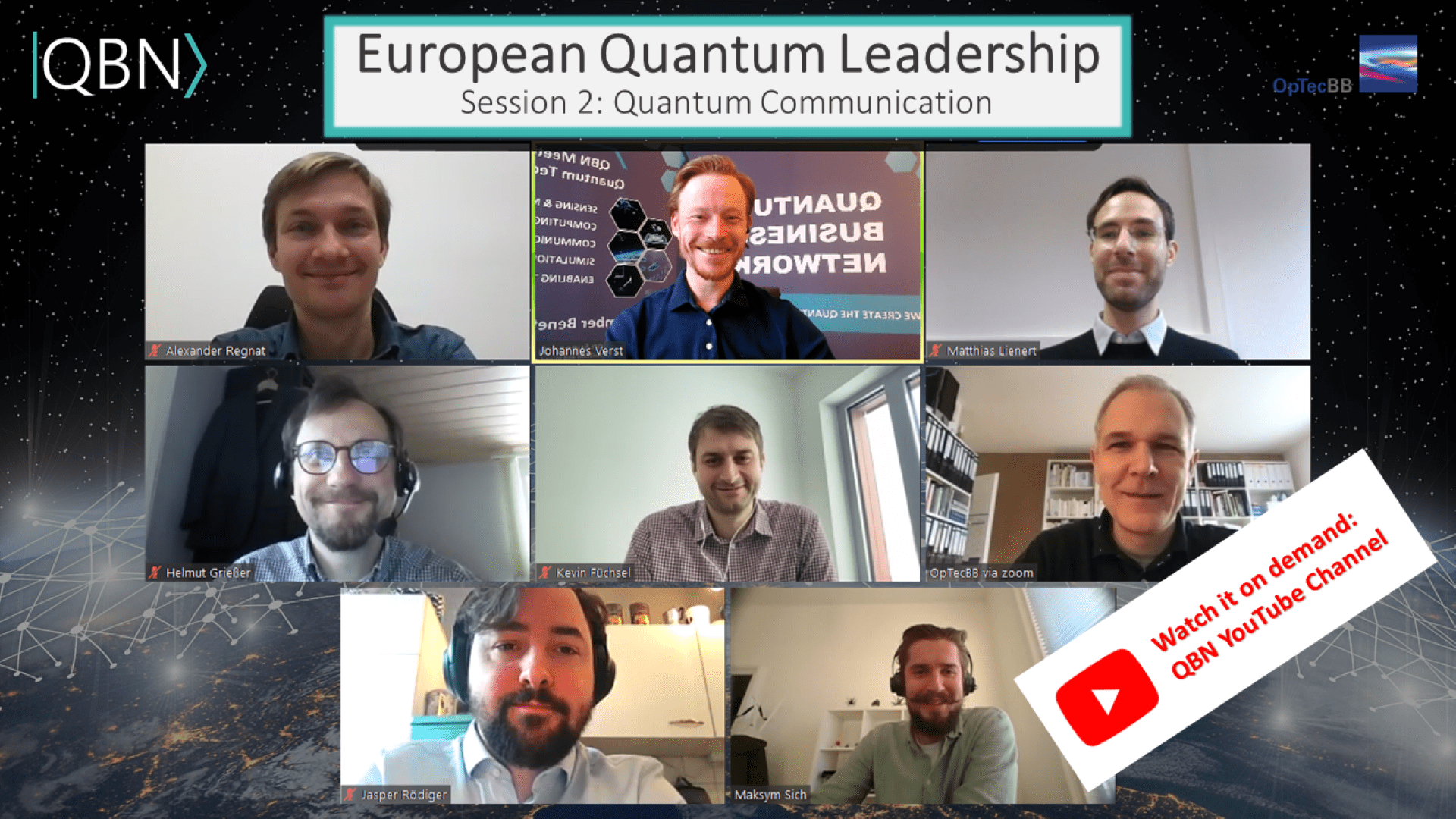 Time

10 Feb 2021, 9:00 - 10 Feb 2021, 12:00(GMT+01:00) View in my time
Event Details

The raw of sessions on the European Quantum Leadership shows, how the EU pave the way to its technological and industrial leadership in quantum technologies.

Learn about the flourishing European quantum industry with its leading startups, corporates and RTOs from the different fields of quantum technologies and its value chains. Gain insights into their visions, products, success stories and collaborations as keys to position themselves and Europe as a leader.
Speakers
Maksym Sich
CEO
AegiQ
Dr Jasper Rödiger
Project Manager
Fraunhofer HHI
Dr Alexander Regnat
CEO and Co-founder
kiutra
Dr Kevin Füchsel
CEO and Co-founder
Quantum Optics Jena
Dr Matthias Lienert
Research Assistant
Research Institute CODE
(Bundeswehr University Munich)
Dr Helmut Grießer
Director Advanced Technology
ADVA Optical Networking
Agenda
Welcoming words
Johannes Verst, CEO & Founder QBN
Frank Lerch, Managing Director, OptecBB
The evolution and future of quantum optical communications
Maksym Sich, AegiQ
Towards a German Quantum Communication Infrastructure
Dr Jasper Rödiger, Fraunhofer HHI
Magnetic Refrigerators for Quantum Detectors and Quantum Communication
Dr Alexander Regnat, kiutra
High Performance Entangled Photon Sources for Quantum Communication
Dr Kevin Füchsel, Quantum Optics Jena
MuQuaNet – The quantum internet in the Munich area
Dr Matthias Lienert, Research Institute CODE (Bundeswehr University Munich)
Quantum security for optical networks
Dr Helmut Grießer, ADVA Optical Networking
Interested to share your vision and work for a European Quantum Leadership?
Contact us info@quantumbusinessnetwork.de!